Aitken Spence Hotel Holdings Sector Winner at ACCA Sustainability Reporting Awards 2021
Aitken Spence Hotel Holdings PLC was adjudged the Winner in the Leisure and Connected Services category at the prestigious ACCA Sri Lanka Sustainability Reporting Awards 2021.
Organised by Association of Chartered Certified Accountants (ACCA), the award further reiterates the Company's commitment towards maintaining a sustainable growth model amalgamating business strategy, corporate governance and sustainability. Presented under the theme 'Maneuvering Through Mayhem', the annual report illustrated how the Company continued to reply on a spirit of resilience built upon industry knowledge and expertise accumulated over decades of change amidst mayhem and unpredictability.
The annual competition is formulated to encourage transparency and accountability in financial reporting in the corporate sector; recognising companies that have demonstrated excellence in transparency, accountability and good governance via their annual reports.
"This commendation reflects Aitken Spence Hotels' pioneering spirit in sustainable hospitality and our continued efforts to further push boundaries of sustainable tourism. Our commitment to corporate accountability stems from our passion to delivering exceptional sustainable experiences for our guests whilst continuing our stringent practices in corporate governance," commented Ms. Stasshani Jayawardena, Chairperson Aitken Spence Hotel Managements (Pvt) Ltd.
"We see corporate sustainability as part of our core business ethos. Our commitment is filtered down to every aspect of the operation", also added Mr. Susith Jayawickrama, Aitken Spence Hotels Joint Managing Director.
The annual report by Aitken Spence Hotel Holdings PLC was also recognised at the Chartered Accountants of Sri Lanka (CA Sri Lanka) Annual Report Awards in December 2021, winning the Gold award under the hotel sector category.
Aitken Spence Hotels is part of the Sri Lankan blue-chip conglomerate Aitken Spence PLC. Aitken Spence Hotels owns and operates 20 hotels and resorts across Sri Lanka, Maldives, Oman and India. The Company's owned hotels are reflected under the Heritance, Adaaran and Turyaa brands, popular around the world for its exceptional service and undisputed product and curated lifestyle experiences. The Company's Sri Lankan portfolio includes 10 resorts spread across the island of which five are Heritance properties, whilst the Maldives resorts totals to six (with one Heritance resort), four in Oman and one in India.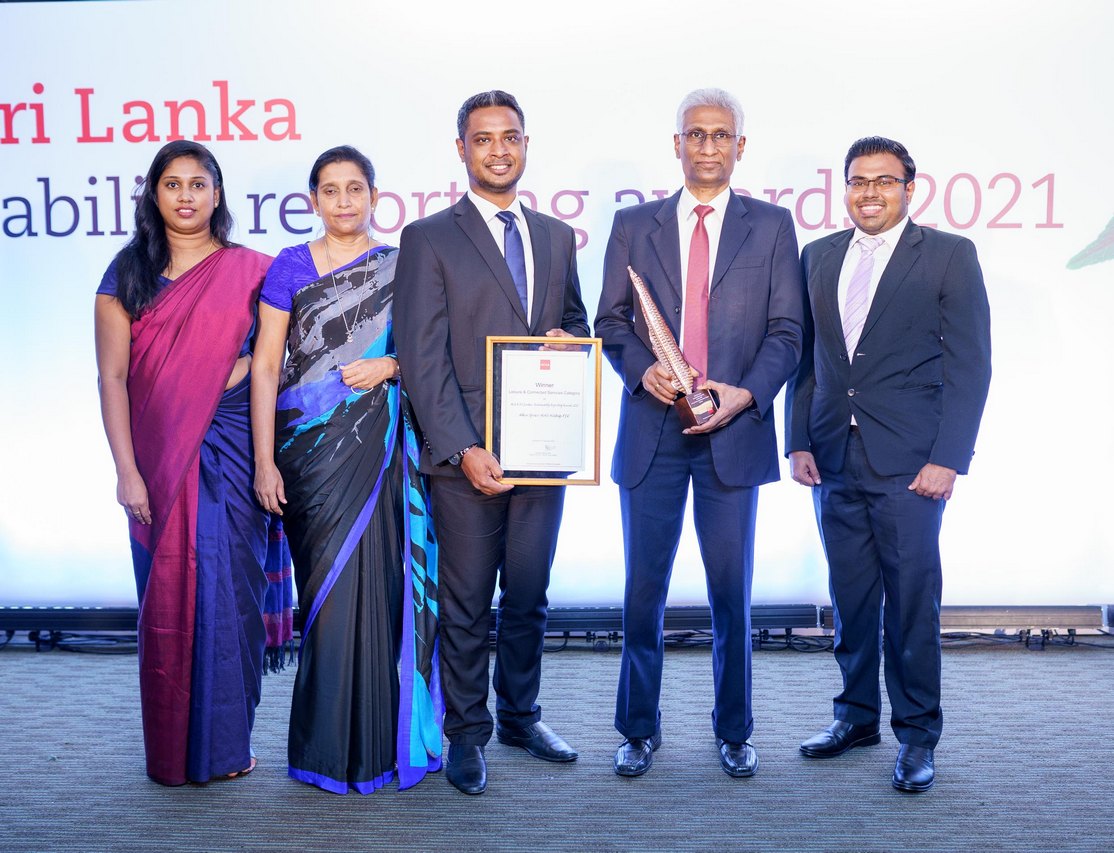 Aitken Spence Hotels Joint Managing Director, Mr. Susith Jayawickrama (second from right) with the Company Finance and Sustainability teams at ACCA Sri Lanka Sustainability Reporting Awards 2021