Aitken Spence Elevators raises industry benchmark for customers and employees
Aitken Spence Elevators has been audited and awarded with the two prestigious integrated ISO certifications by SGS Lanka including ISO 14001:2015 (Environment Management System) and ISO 45001:2018 (Occupational Health and Safety). Prior to these certifications, the company has been certified for ISO 9001:2015 (Quality Management System) to continuously enhance the quality of products and services for their customers and to achieve sustainable performance improvements. With these certifications, Aitken Spence Elevators becomes the first and only Elevator company in Sri Lanka to establish a certified integrated management system for quality, environmental impact control and occupational health & safety.
Conforming to the extensive criteria of these standards, demonstrates Aitken Spence Elevators' commitment to reduce environmental impact and to protect the health and safety of their employees and other personnel. Having received the ISO 14001:2015 (Environment Management System) standard, confirms that Aitken Spence Elevators is more cautious of their environmental impact, proactive in managing environmental risks and follows systematic procedures that will not only benefit the environment but helps to reduce costs and improve efficiency within the organisation.
 ISO 45001:2018 (Occupational Health and Safety) indicated in the name itself, assures that the workplace is safe and healthy for employees, fewer workplace injuries and illnesses through a proactive approach in hazard identification and risk assessment which in turn leads to improved performance in organisational health and safety.
These will act as a guide to enhance the company's productivity by performing efficient best practices to their valued customers whilst providing an environment conducive for work. Moreover, this endorsement would give added confidence to customers/ clients and future focused organisational practices.
Commenting on this, Mr. Chaminda Hindurangala, Chief Operating Officer of Aitken Spence Elevators said, "Being the first Elevator company in Sri Lanka to obtain all three certifications for these international benchmarks: ISO 9001, ISO 14001 and ISO 45001: is rewarding and shows our commitment to our stakeholders. This achievement did not come easy and has been a learning curve to meet the requirements of these stringent standards. It also reflects the commitment and hard work of my dedicated team at Aitken Spence Elevators and reaffirms that Aitken Spence Elevators is raising benchmarks in the industry. We will continue to deliver a richer customer experience".
Aitken Spence Elevators is a joint venture between Aitken Spence PLC and OTIS Elevator Company, responsible for supply, installation and maintenance of OTIS elevators and escalators in Sri Lanka and Maldives for over 32 years. Our most prestigious key account customers include Havelock city, WTC Colombo, Pearl Grand, Twin peaks, Grand Hyatt, 606 Address, ITC ONE COLOMBO, Altair, Defense Head Quarters Complex, The Parliament, Bandaranaike International Airport and Sri Lanka Insurance Corporation.
OTIS is the world's leading company for elevator and escalator manufacturing, installation, and service. OTIS moves 2 billion people a day and maintains more than 2 million customer units worldwide - the world's largest portfolio. OTIS can be found in many famous buildings around the world as well as the busiest transportation hubs and retail centers by providing a necessary and convenient service to busy lifestyles.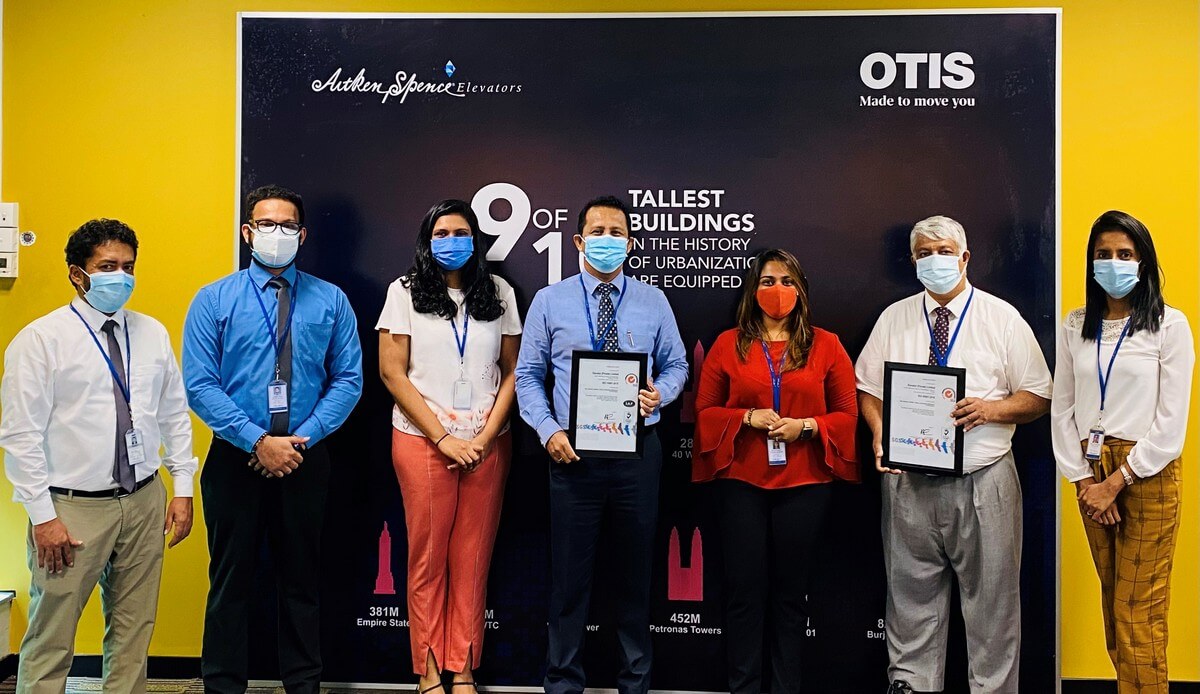 Mr. Chaminda Hindurangala, Chief Operating Officer of Aitken Spence Elevators with the team